.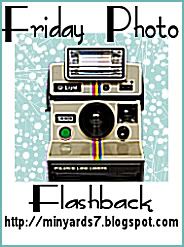 Alicia from More Than Words says she started
Friday Photo Flashback
because "I have so many pictures from my PRE-digital camera days. I thought it would be fun to scan them and share them here with you.. I'm having so much fun doing this, that I would love for you to join me, too! So dig out the photo albums and put your scanner to good use! Don't forget to link up so we can all visit and comment on each others blogs!"
Sunday the 22nd would have been my best friend in the whole world, Sue's birthday. Sue and I were best friends for over 30 years, she was maid-of-honor in my wedding to Bill and I was maid-of-honor in her wedding.
My Wedding - 1997
She was the kind of friend that you could call on the phone at any time day or night and with just the word "hello" either one of us could tell what mood the other was in and say, "I'll be right over."
It was really hard on us both when I moved to Florida because it meant that we wouldn't be seeing each other at least once a week and on the phone every day. She spent my last day in Connecticut with me, while I finished packing and getting the cars ready to take the trip. When she left we both hugged and cried for a long time.
We still kept in contact with each other via the phone, letters, cards, and e-mail, but it just wasn't the same. I missed her SO much.
Then our contact got less and less, but when we would talk, it would be for hours and it was like we never even lost contact. Until letters, cards, and phone calls I sent or made weren't returned... until I got an anniversary card that simply said "Love, Sue" - it just wasn't like her at all.
It was 2009, and I remember the phone call like it was yesterday - it came from Sue's daughter, Kimberly. Sue was in the hospital.... she was extremely sick, she had been hiding it from me. She had kidney cancer that had spread to her lungs, metasticized and was now in heart failure, she didn't have long to live.
Normally I would do what she would have done for me, jumped on a plane and gone to be with her... but I couldn't do that. I had major spinal surgery 6 weeks before this happened and I could barely walk, let alone get on an airplane. I was devastated, my best friend in the whole world had to go through the worst thing in her life without me. I know she knew in her heart, she knew I was there with her in my heart - we were always like that for each other, there is no way it would end now.
So although Sue has been gone from this world for 3 years, she will never be gone from my heart.... Happy birthday my dear friend, I love you and I miss you, and I will never forget you!!!
Sue's Nursing School Graduation Party - 2000


I loved to see your old photos and hear your stories... so don't forget to post your Flashback Friday Photos and link up with Alicia.





.