.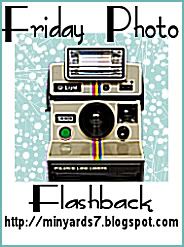 Alicia from
More Than Words
says she started Friday Photo Flashback because "I have so many pictures from my PRE-digital camera days. I thought it would be fun to scan them and share them here with you.
.
I'm having so much fun doing this, that I would love for you to join me, too! So dig out the photo albums and put your scanner to good use! Don't forget to link up so we can all visit and comment on each others blogs!"
My friend
Dolly
has been playing every week for months and I have loved seeing all her old photos and so this week I have decided to start playing along. I posted some old photos of my
boys
earlier in the week because of their birthdays and that also got me thinking about posting flashback photos.
These are photos of my baby Nano from 2008 when he was just a baby. Isn't he so cute? Look how little he was - just about the size of the water bottle. That is how he got his name, when he was born, he fit into the palm of my hand and we didn't think he would get much bigger... so he got the name Nano Bytes Shewbridge... Now he is about 10 pounds, and sometimes we call him Mega Bytes.....
If you'd like to play along, dig out the old photo albums, scan in some photos and write a post to tell us all about what's going on in the photos. Then link up with Alicia at
More Than Words
, visit the other participants and leave a nice comment. See you next week, hope remember... :)