.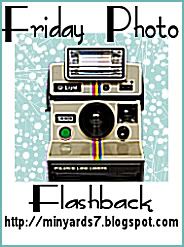 Alicia from

More Than Words

says she started Friday Photo Flashback because "I have so many pictures from my PRE-digital camera days. I thought it would be fun to scan them and share them here with you.. I'm having so much fun doing this, that I would love for you to join me, too! So dig out the photo albums and put your scanner to good use! Don't forget to

link up

so we can all visit and comment on each others blogs!"
OK, ladies, how many of you remember "Glamour Shots?" You know those places in the mall in the 80's where they put too much make-up on you, did your hair up too big and gave you "sexy" clothes to wear, then took photos of you to make you look "glamorous." I'm ashamed to say that I fell for the deal and even bought several of the photos. I only have two of them left and have NO idea where the rest of them are... how scary is THAT? Now, while you are laughing at me, remember, this is the 1980's (and before I got braces)!!
If you'd like to play along with

Friday Photo Flashback

, dig out the old photo albums, scan in some photos and write a post to tell us all about what's going on in the photos. Then link up with Alicia at More Than Words, visit the other participants and leave a nice comment.
.