.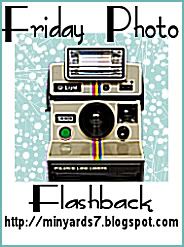 Alicia from More Than Words says she started

Friday Photo Flashback

because "I have so many pictures from my PRE-digital camera days. I thought it would be fun to scan them and share them here with you.. I'm having so much fun doing this, that I would love for you to join me, too! So dig out the photo albums and put your scanner to good use! Don't forget to link up so we can all visit and comment on each others blogs!"
I decided that in honor of next week's Disney Social Media Moms Conference I would post some of my photos from past visits to Disney World with my boys:
I'm really looking forward to going back to Disney to see all the wonderful bloggers at the Social Media Moms Conference. I don't think my boys will be able to make it this time because the Army has other plans for my oldest son, Nikolaus, they scheduled some Mountain Warfare training for him during the same time which he is trying to reschedule, but I don't think he'll be able to do that.... and hate to say it, but the U.S. Army trumps Mommy... :) Plus Nikolaus was little brother, Alexander's transportation down here, so.... it seems that I'll have to wait a little while longer before I get to see my little men again.
If you'd like to play along with

Friday Photo Flashback

, dig out the old photo albums, scan in some photos and write a post to tell us all about what's going on in the photos. Then link up with Alicia at More Than Words, visit the other participants and leave a nice comment. See you next Friday -

FROM DISNEY WORLD!!!

:)