.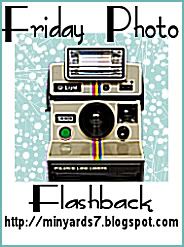 Alicia from More Than Words says she started

Friday Photo Flashback

because "I have so many pictures from my PRE-digital camera days. I thought it would be fun to scan them and share them here with you.. I'm having so much fun doing this, that I would love for you to join me, too! So dig out the photo albums and put your scanner to good use! Don't forget to link up so we can all visit and comment on each others blogs!"
This photo is from a visit to Disney World that Bill and I made to Disney World before we moved down here to bring in the millennium. This photo was taken on New Year's Eve 1999 as we celebrated in EPCOT with about a million other people - it was SO exciting. We bought a bottle of champagne in Germany and they poured the whole thing into two large plastic cups so we could carry it into the park with us and we had those HUGE turkey legs for dinner.... It was one of the most memorable evenings ever, the fireworks were spectacular and to be able to kiss my favorite person at midnight under those fireworks at my favorite place in the world was just the most magical experience.

What a way to start a new year, a new century and a new millennium!
Notice my motto, no woman is fully dressed without her tiara! :)
If you'd like to play along with

Friday Photo Flashback

, dig out the old photo albums, scan in some photos and write a post to tell us all about what's going on in the photos. Then link up with Alicia at More Than Words, visit the other participants and leave a nice comment.
.